Electric Golf Cart Repair Services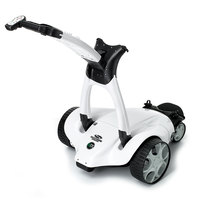 The Buggy Man is an importer of all Powakaddy parts and provides full servicing on all Powakaddy electric buggies.
We are an Authorised Service & Repair Agent for ALL leading brands and models of electric golf buggies.
Maintenance Servicing
With all our buggy sales, we recommend a service every 18 months to 2 years to keep your buggy operating at its best. Call us today to arrange a service for your buggy.
Spare Parts
We keep a full range of spare parts for all the major brands of buggies. Wheels, axels, handles, on-off switches, controllers and motors just to name a few. Our priority is to keep buggies in the workshop for a minimal amount of time as possible and get golfers back on the golf course with their buggies, as quickly as we can.
Batteries and Chargers
We keep a constant supply of batteries which can be adapted to any brand of electric golf buggy. Do you find that your buggy is losing power throughout your round of golf? We have the ability to test your battery and also test and repair chargers. We also have new automatic chargers in stock.
Exciting new technology in batteries has seen the introduction of Lithium batteries for use on electric golf buggies. We have a number of new buggies which come with a "fitted" lithium battery, and we also stock lithium batteries which can be used on any brand of buggy. With more power, anticipated longer life, their extreme reduction in weight from traditional gel batteries (less than half the weight!), and a 2 year warranty, these batteries are quickly becoming a hot item in the golfing world. Ask us today about a new lithium battery for your buggy!
Parts and Accessories
The Buggy Man is the official importer of all Powakaddy parts and provides full servicing on existing Powakaddy buggies. Only genuine aftermarket parts are used in all our servicing and repairs for the following brands:
Our experienced engineers service and repair most makes of single seat golf buggies and electric trolley's at our workshop in Roseville, Sydney. We aim to provide a speedy and efficient service so that you are back on the course in no time. If you are not able to bring your buggy to us, we offer a collect and return service which is location based so please contact us for a quotation.